Address data
Coolplants

Margareta van Vlaanderenstraat 27
8310 Bruges
BELGIUM
e-mail : info@coolplants.com
tel : +32 50 68 43 58
business manager: Cathy Portier

company number BE 0872.066.424
Nursery: alpenplanten.be
Partners
In addition to our own range, we work together with various suppliers and partners.
HostaFolie
, Ardooie: wholesale Hosta, Heuchera, Paeonia, ...
Denolf
, Waregem: wholesale shrubs, trees and conifers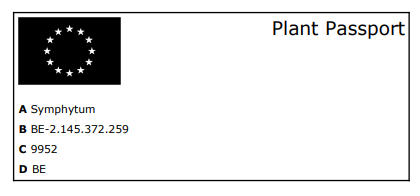 Plant Passport
The Plant Health Regulation (EU) 2016/2031 forms the basis of the plant health policy in the EU.
Climate change and increasing trade mean that the EU is increasingly confronted with new threats to plant health. In order to better protect the EU against harmful organisms, there are new rules for everyone who trades plant material since 14 December 2019.

A European Plant Passport is provided with each delivery, with our registration number and the plants sold.